White prairies
Inner Mongolia's seasonal appeal is as unique as the countless snowflakes that paint its terrain frosty shades.
Camel beauty pageants. Camel rides. Camel herding.

Sheepherding. Mutton - lots of mutton - on kebabs, in hotpot and whole-roasted.

Arm wrestling. Snow wrestling.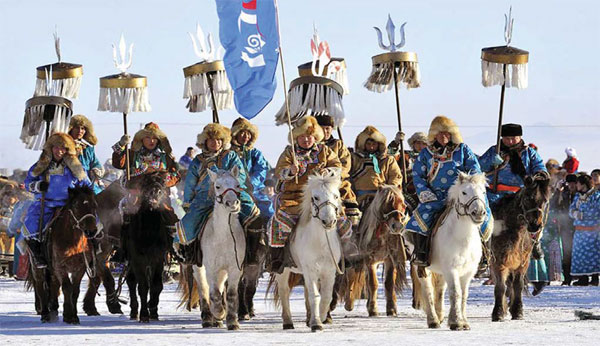 Herdsmen celebrate the winter Nadam festival in Inner Mongolia. Provided to China Daily
Snowmobiling. Snowshoeing.
Swim in -30 C. Boil tea in yurts. Herd reindeer.

Ski down volcanoes.

Shoot arrows. Ride sleighs. Enjoy bonfires in subzero temperatures.

Oh, and don't forget to meet Santa. (He apparently lives in Inner Mongolia.) Get jolly.

This lengthy list of activities is just the tip of the iceberg of the Inner Mongolia autonomous region's possible wintertime itineraries.

It's a list that ventures far beyond stunning scenery. And there is plenty of that. Landscapes - geological and cultural - are what the region is celebrated for.

Most people think of grasslands at the mention of Inner Mongolia.

For good reason.

But these are sheathed in snow from October through May, when pink azaleas pop through the white drifts. So, too, are the region's woodlands, hot springs and deserts.

Indeed, Inner Mongolia offers eclectic landscapes, cultures and activities.

Primitive forests cover the Greater Hinggan Mountains in the east. Volcano craters pockmark many peaks of the Arxan Mountains in the west.

The diversity of wintertime offerings has enticed such travel agencies as CYTS-Linkage Public Relations Consulting Co to conjure itineraries. The company has worked with the region's tourism authority to develop winter routes, executive general manager Ge Lei says.

"The biggest moon I ever saw was at Dalinuoer Lake, where birds sang and danced," Ge says, recalling his first Inner Mongolia visit in 2008.

"But most amazing are the locals. They're tough enough to take down a bear but blush around strangers."

They stage feats of snow wrestling, archery and horse racing, plus performances, folk art demonstrations and ritual sacrifices, during the winter Nadam Festival from December to February.

A growing number of visitors spend Christmas and Lunar New Year holidays in the region to enjoy the celebrations, Hulunbuir tourism authority official Li Jietao says.

Hulunbuir is home to many ethnic groups, including the Mongolian, the Ewenki and the Oroqen.

"Our ethnic culture sets us apart," Li says.

"But it's also especially cold.

Visitors snap photos of themselves tossing a cup of scalding water into the air that instantly freezes into a crystalline powder and poofs onto the ground like a crashing cloud.

Inner Mongolia is making a particular push to lure youth. This year it earmarked a 100,000 yuan ($14,760; 13,892 euros; 11,833) travel fund for college students at a Beihang University event in Beijing this month.

It has developed routes featuring food, photography and "snow leisure" for young explorers.

They can snowmobile, "join the polar bears club" by swimming in freezing temperatures, paint in snowy fields and craft ice lanterns.

Chifeng's Meilin Valley, Yakeshi's Phoenix Mountain Villa and the Jinlong Mountains in Zhalantun are popular ski spots.

"China's coldest village" offers Christmas culture, plus bonfires, fireworks and Mongolian dances.

Inner Mongolia has also developed several driving routes for travelers who take the wheel and steer their own destinies on the road.

Road trips through the Hinggan League-Hulunbuir-Manzhouli wind through birch forests, stop in at Russian restaurants and slip through rime-encrusted landscapes. That's not to mention ice fishing, lava formations and ice sculptures.

The Xilingol-Chifeng-Tongliao-Erenhot route features a dinosaur museum, camel pageants and wildlife hunting.

The Ulan Qab-Hohhot-Baotou-Erdos itinerary hosts auto-stunt shows, a Mongolian dairy and desert exploration.

Indeed, those who journey through Inner Mongolia at its most frigid will discover a place that truly is a winter wonderland - although perhaps not in the most conventional sense.